The Most Popular Types of Websites You Need to Know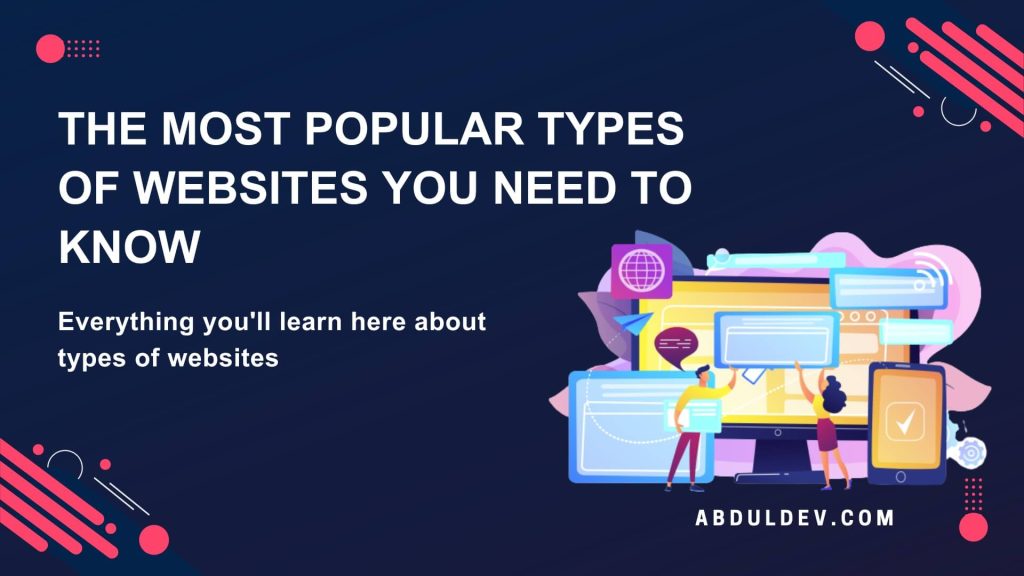 Personal websites are common types of websites used to establish an online presence. They are great for individuals who want to showcase their skills or hobbies to potential clients or customers. This can be an online portfolio, personal blog, or educational website. Personal websites can also create an online course or share knowledge with others. These websites can be great for educators or professionals in specific fields who want to share their expertise with a broader audience.
Additionally, personal websites are different kinds of websites and great for networking with others in your industry. Including an email address or contact form on your website can help you connect with potential clients or customers. Consider creating a membership or social media website to build a community around your brand.
Personal websites are essential for establishing an online presence and reaching potential clients or customers. Whether promoting your business or sharing your knowledge with others, a unique website can help you achieve your goals.
E-Commerce websites are a type of online platform where businesses sell products or services to customers over the Internet. These websites provide an excellent opportunity for businesses to reach a wider audience and increase sales. With the rise of online shopping, more and more people prefer to shop online, making eCommerce websites more critical than ever. If you are running an eCommerce website, it is essential to ensure that your website is easy to use, secure, and optimized for search engines. This will attract more potential customers to your website, increasing sales and revenue for your business. E-Commerce websites can cater to a wide range of companies, from small retailers to large corporations. These websites are not limited to traditional retail businesses; educational institutions and news websites can also use them to sell products or services related to their industry. An eCommerce website is also an excellent way for businesses to connect with prospective clients and build brand awareness. You can educate potential customers and build trust by providing valuable information about your products and services on your website.
Overall, eCommerce websites are necessary for businesses in today's digital age. By investing in a high-quality eCommerce website, companies can increase their online presence, attract potential customers, and ultimately increase sales and revenue.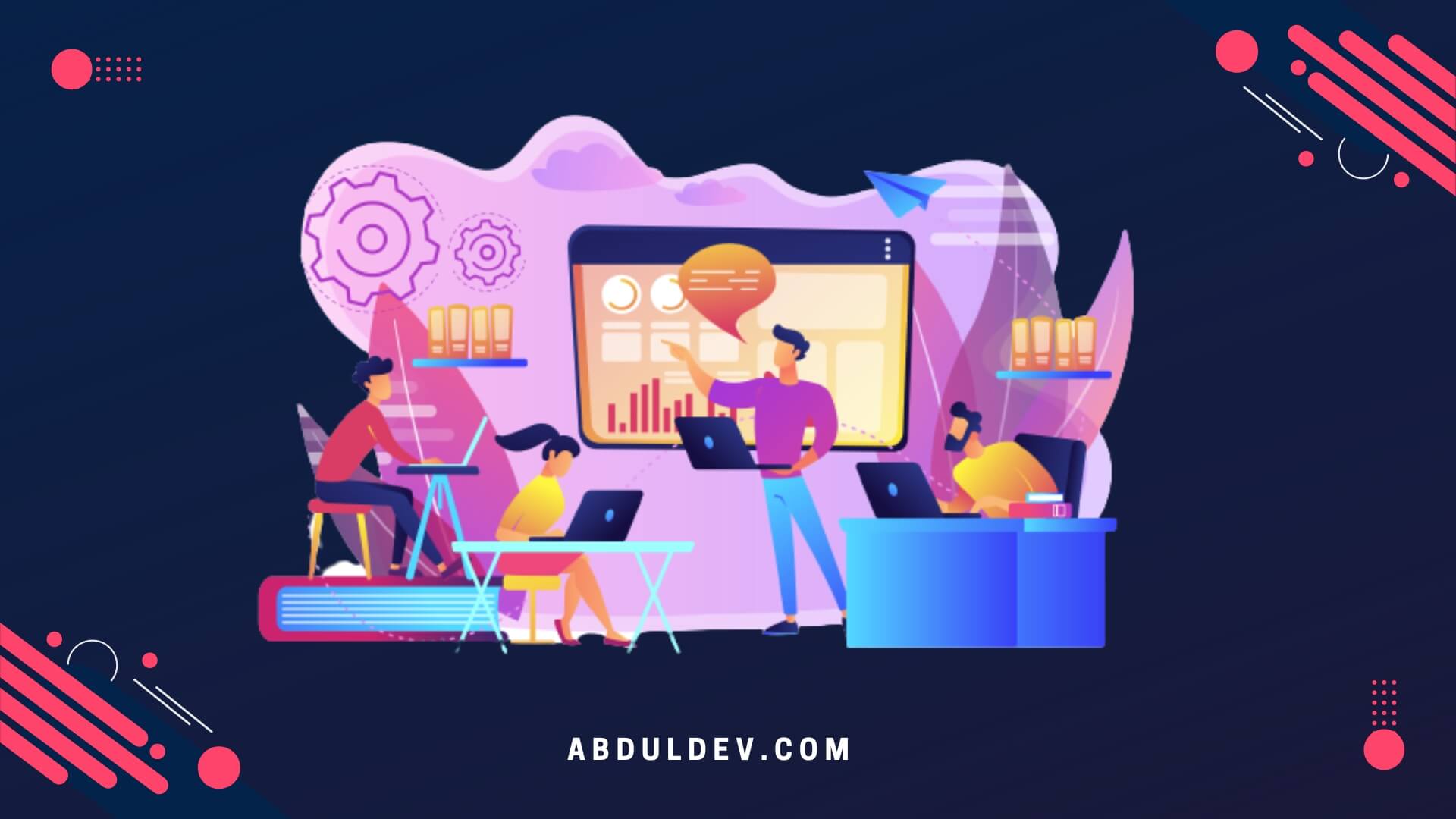 Corporate websites are essential for any business looking to establish an online presence. These websites serve as a platform to showcase the brand's identity, vision, and mission. A corporate website should provide all the essential information about the business, including its history, products or services, team members, contact information, and more. The primary goal of a corporate website is to establish trust and credibility among potential clients, investors, and partners. A well-designed corporate website with an intuitive user interface and engaging content can significantly enhance a brand's reputation and influence. A corporate website should also reflect the company's values and culture. The website's design and tone should align with the company's brand identity and communicate its unique selling proposition. The website should also incorporate relevant calls-to-action (CTAs) to guide visitors toward desired actions, such as signing up for a newsletter, scheduling a demo, or purchasing. Corporate websites are typically large and complex, requiring a considerable investment in design, development, and content creation. However, a well-executed corporate website can be a powerful marketing tool and a gateway to new business opportunities. Some examples of successful corporate websites include Apple, Nike, and Microsoft. These websites incorporate eye-catching designs, engaging visuals, and clear messaging to convey their brand identity and showcase their products and services.
A corporate website must build its online presence, establish trust and credibility, and drive business growth.
Portfolio websites are a popular choice for professionals in the creative industry. These sites are essentially digital portfolios showcasing an individual's work and skills. A well-designed portfolio website can set you apart from other professionals. It can showcase your strengths and expertise and give potential clients or employers an insight into your style and approach. Some key features to include on a portfolio website are:
– Clear navigation: Ensure visitors can easily navigate your site and find the necessary information.
– High-quality images: Your portfolio is only as strong as the visuals you present. Ensure your images are high quality and showcase your work in the best light possible.
– Contact information: Make it easy for potential clients or employers to contact you. Include your contact details on every page of your site.
– Testimonials: Include testimonials from past clients or colleagues to showcase your expertise and professionalism.
– Case studies: Provide examples of your work in the form of case studies, outlining the problem, your approach, and the results.
When designing a portfolio website, it's essential to balance aesthetics and functionality. You want your site to look great, but it must also be user-friendly and easy to navigate. Consider working with a web designer or developer to ensure your portfolio website meets these requirements.
A portfolio website is a powerful tool to help you stand out in a crowded job market or attract new clients. By showcasing your skills and expertise, you can position yourself as an authority in your field and increase your visibility online.
Real estate websites are essential for buying, selling, or renting property. These websites provide access to comprehensive listings, including details about property size, location, and amenities. Visitors can filter searches based on criteria like price, location, and property type, making it easier to find exactly what they're looking for. Real estate websites typically include photos and videos of the properties and detailed information about the surrounding neighborhood. Some sites even offer virtual tours of homes or apartments. Users can often save listings they're interested in, create custom searches, and receive notifications when new properties are added that match their criteria. Some real estate websites also provide additional services, like mortgage calculators, guides for first-time homebuyers, and information on local schools, businesses, and community events. These features can benefit those new to an area or unfamiliar with the real estate buying or renting process.
Overall, real estate websites make it easy to find and compare properties from the comfort of your own home. Whether you're looking for your dream home, a new rental, or an investment property, these sites offer the resources you need to make an informed decision. Read more about the website design guideline for beginners.
Education has been transformed with the advent of the internet. Online education is one of the fastest-growing industries in the world, and educational websites have played a significant role in making this possible. These types of websites offer courses, resources, and educational content to people of all ages, from kindergarteners to adults looking to learn new skills. Some popular educational websites are: 
Khan Academy: Khan Academy is a non-profit organization that offers free online courses in various subjects, from math to history. Their interactive systems are designed for students of all ages, and their mission is to provide free, world-class education to anyone, anywhere. Coursera is an online learning platform that partners with top universities and organizations worldwide to offer courses online. They provide a range of courses in various fields, including business, technology, and healthcare. Coursera offers both free and paid courses, and they offer certificates upon completion.
edX is an online learning platform offering courses from top universities, including Harvard and MIT courses. Their systems are free to audit, or you can pay for a certificate upon completion. edX also offers MicroMasters programs to provide in-depth knowledge and skills in a particular field.
Duolingo is a language-learning platform that offers courses in over 30 languages. Their systems are gamified, making language learning fun and engaging. Duolingo offers free and paid courses suitable for all levels, from beginners to advanced learners.
TED-Ed is a non-profit organization that offers educational videos on various topics, from science to art. Their videos are short, engaging, and informative, designed for students of all ages. TED-Ed also offers lesson plans and quizzes to accompany their videos.
Educational websites have made education more accessible and convenient than ever before. With the vast resources and courses available, there has never been a better time to learn something new. Whether you are a student looking to supplement your studies or an adult looking to acquire new skills, there is an educational website for you. Read more the WordPress for beginners.
Wiki and knowledgebase websites
Wiki and knowledgebase websites are often used as reference sites where users can find information about a certain topic or product. These types of websites are created to offer information about different subjects or products, which can help users gain knowledge about a particular topic. A wiki is a website that allows multiple users to edit and add content. It is like a collaborative website where anyone can contribute and update information on any topic. Wikipedia is the most famous example of the Wiki types of websites. It is an online encyclopedia constantly edited with information on various subjects. A knowledgebase website focuses more on a particular product or service and contains detailed information. These websites are created to provide customers with comprehensive information on the product or service they are interested in. For example, a software company might create a knowledgebase website that offers users detailed information about their product, how to use it, and troubleshooting any issues that may arise. Wiki and knowledgebase websites are helpful because they provide users with information. They are handy for quick answers to specific questions or problems. Users can easily find information on a particular topic or product without spending time sifting through irrelevant content.
In summary, wiki and knowledgebase websites are valuable tools for anyone seeking information on a particular topic or product. They provide a comprehensive report that is easy to access and navigate. If you want to create a reference site or knowledgebase website, it is essential to ensure that the data is accurate, up-to-date, and easy to navigate.
Blogs have been around for quite some time now, and they're not going anywhere anytime soon. A blog is a website updated regularly with new content written by a single person or a group of individuals with similar interests. It is one of the major types of websites. Blogs are versatile and can be used for various purposes, such as sharing personal experiences, helpful tips and advice, showcasing a brand or product, and so much more. They're an excellent platform for anyone who loves writing and wants to share their thoughts and ideas. One of the most significant advantages of having a blog is that it can help increase your visibility online. By regularly posting quality content optimized for search engines, you can attract more visitors to your website and increase your rankings in search results. Blogs can also help you build a community of followers who share similar interests. By engaging with your audience and encouraging comments and feedback, you can create a space where people feel connected and invested in your content.
Some popular types of blogs include:
– Personal blogs, where individuals share their thoughts and experiences on various topics
– Business blogs, where companies can share news, updates, and industry insights with their audience
– Niche blogs that focus on a specific topic or theme, such as food, fashion, travel, or technology
Whether you're a writer, entrepreneur, or simply passionate about a particular topic, a blog can be an excellent tool to help you reach your goals and connect with others who share your interests. Read more my article about the SEO guideline for beginners.
If you want to create an online community that can interact with each other, forum websites are your go-to solution. These websites provide a platform where people can discuss various topics, share opinions, and ask questions. Forum websites can be general, catering to a wide range of issues, or niche-specific, catering to a specific group of people interested in a particular subject. Famous examples of forum websites include Reddit, Quora, and StackOverflow. Forum websites are an excellent way to connect with people who share similar interests and get answers to your questions from experts in the field. They also allow you to establish yourself as an authority in your niche and engage with your audience. When building a forum website, it is essential to remember that moderation is crucial. Since forum websites are open to everyone, there can be instances where discussions may get out of hand. Therefore, having a set of community guidelines and moderators can help maintain a healthy discussion forum.
Social media's rise has completely changed how we communicate and interact online. Social networking sites have become a phenomenon, connecting people worldwide with just a button click. Today's most popular social networking sites are Facebook, Twitter, Instagram, and LinkedIn.
Facebook, founded in 2004, is the largest social networking site, with over 2.7 billion monthly active users. It allows users to connect with friends, family, and acquaintances and share photos, videos, and updates about their life. Facebook has become a platform for businesses and brands to connect with their target audience.
Twitter is a micro-blogging platform where users can share their thoughts, news, and updates in 280 characters or less. It has over 330 million monthly active users and is used by celebrities, politicians, and journalists to communicate with their followers.
Instagram is a photo and video-sharing app that allows users to edit and share their content with followers. It has over 1 billion monthly active users and is widely used by businesses and influencers to market their products and services.
LinkedIn is a professional networking site where users can create profiles, connect with colleagues, and search for job opportunities. It has over 740 million members and is an essential platform for job seekers and recruiters.
Social networking sites have revolutionized how we connect with people and are now an essential part of our daily lives. These sites have also become a platform for businesses and brands to market their products and services to a broader audience.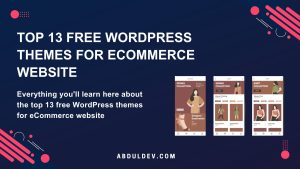 Are you looking for free WordPress themes for eCommerce website? Check out this collection of top-rated pieces that will help
Read More »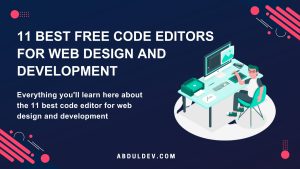 Looking for want to know free code editor? Here you'll learn about the top free code editors available for download.
Read More »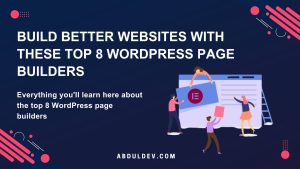 Create beautiful and functional WordPress pages without coding skills using the top 8 WordPress page builders in the market. Try
Read More »